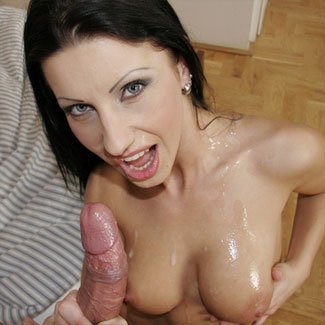 Mike has got the ultimate scam… he owns an apartment in Amsterdam, and he rents out extra rooms by the day and week to backpacking students and others who come into town looking for place to stay. But because there is so many good things to spend money on in Amsterdam, many of the girls are looking for ways to save their cash for fun.
Enter Mike's Apartment, cue the dreamy music!
Mike has some alternate payment methods that you will love.  He encourages the girls to get naked, play with themselves, and sometimes even to suck off Mike or his friends… and something he fucks them too.  Nikki here goes in that last group.   She is more than willing to get naked and play hide the sausage in her tight, tight pussy.  She is a hot fuck.  She is also a hot suck, and she ends up with a face full of goo.